Flexible Booking Policies and Best Practices
Our Commitment to You
Just like you, we are navigating our way through the dynamic and ever-changing challenges that COVID-19 is presenting.
Big White Central Reservations is getting ready for the summer season at Big White, while putting best practices and procedures in place for the health and safety of our guests and our team members. Add our Peace of Mind Policy with flexible deposit and cancellation policies and we've got you covered!
Summer Booking Flexibility with Big White Central Reservations
We've got you covered with our Flexible Summer Cancellation Policies! Providing you with Peace of Mind when booking summer accommodation with Big White Central Reservations
Flexible Summer Cancellation Policies for your Peace of Mind:
$15 non-refundable booking fee is charged at time of booking with full payment charged 48 hours prior to arrival.
Cancellations up to 48 hours prior to arrival for any reason, $15 non-refundable booking fee is retained, no further charges or fees apply.
If you or a member of your party tests positive for Covid-19, is waiting for test results, has symptoms of Covid-19 or has been told to self isolate by a Local or Provincial Health Authority in the lead up to your booking, we kindly ask that you contact us immediately and you or the member of your party do not travel to Big White. If this means that you need to cancel your booking, within 48 hours prior of arrival, we will move your booking to a later date this summer season with no penalty.
*Please note any increase in rates due to date change will apply
Big White Central Reservations Best Practices & Commitment to Cleanliness
BC's Commitment to Bring Us Back Together
BC's restart plan is great news for us all, now is the time to be positive, look forward and plan your summer activities. Book now with confidence, secure your summer accommodation at the best rates now!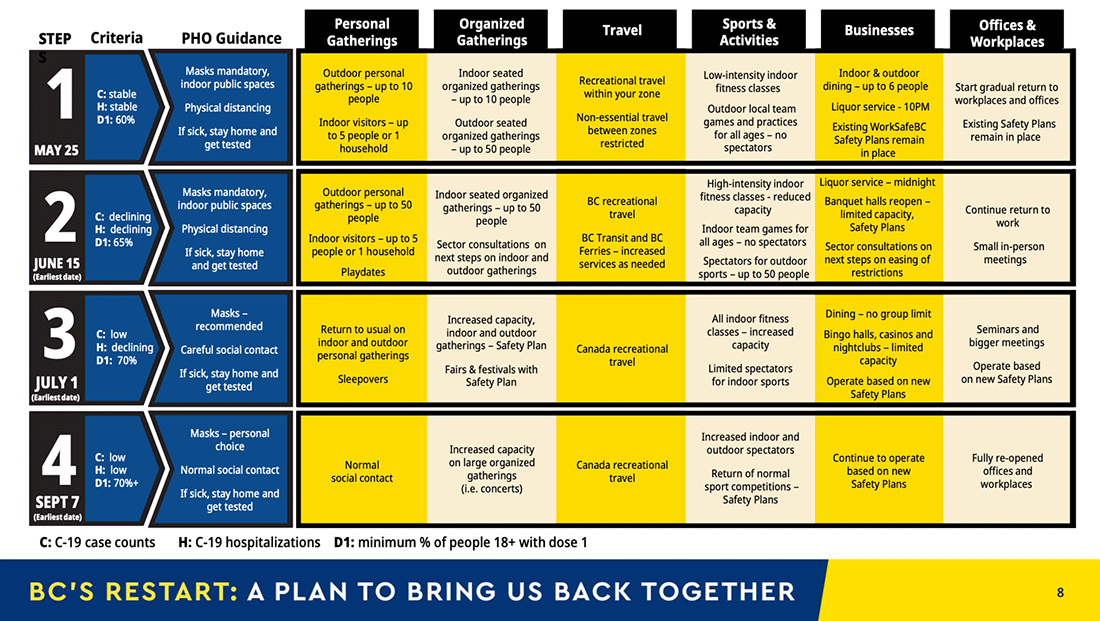 As more people are vaccinated, the latest modelling data shows we can look forward to a gradual return to normal society starting as early as July 1. Our resort is committed to maintaining our high standards of cleanliness and will continue to monitor hygiene and cleaning guidelines as the 4 step restart plan progresses.  The information below will be continually updated and adjusted according to the official government guidance for hotels and resorts.
Staff Health, Safety and Knowledge
Resort staff and their own health, safety and knowledge are essential to an effective cleaning program. Here are some ways we're supporting them:
Hand Hygiene: Proper and frequent handwashing is vital to help combat the spread of viruses. In our daily meetings, our teams are reminded that cleanliness starts with this simple act. It's important for their health and that of our guests.
Masks: Effective July 1, 2021 and until further notice. The mandatory mask policy has been lifted from all buildings and outdoor operations at Big White. Mask wearing is recommended when entering resort buildings or when physical distancing is not able to be maintained. If you wish to wear a mask and you wish the staff you are interacting with to wear a mask while in any of our buildings, we are encouraging you to make the request as we are more than willing to provide the level of hospitality that makes you comfortable.
Ongoing Training: In addition to training on housekeeping and hygiene protocols, staff are also completing enhanced COVID-19 awareness training.
Stay Home: Staff are instructed to stay home if they have any signs of illness, no matter how mild.
Cleaning Products and Protocols
Our resort uses cleaning products and protocols which are effective against viruses, including:
Guest Rooms: Hotels use cleaning and disinfecting protocols to clean rooms after guests depart and before the next guest arrives, with particular attention paid to high-touch items.
Public Spaces: The resort has increased the frequency of cleaning and disinfecting in public spaces, with a focus on the counter at the front desk, elevators and elevator buttons, door handles, public bathrooms and even room keys.
Back of House: In the spaces "behind the scenes," we are increasing the frequency of cleaning and focusing on high-touch areas like entrances, locker rooms, laundry rooms and offices.
Our Care Commitment
Big White Central Reservations hopes our enhanced policies, protocols and procedures will show our commitment to you, our valued guests.  We care and we will be here for you, providing an escape to the great outdoors, a safe and clean environment, and a summer trip to look forward to.
Book Now - Call 1.800.663.2772 or
US & International Guests
Big White Central Reservations has had to make the very difficult and sad decision to not accept International or US bookings at this time while borders are closed.

Contact Us:
Direct: (250)765-8888
Toll Free: 1-800-663-2772