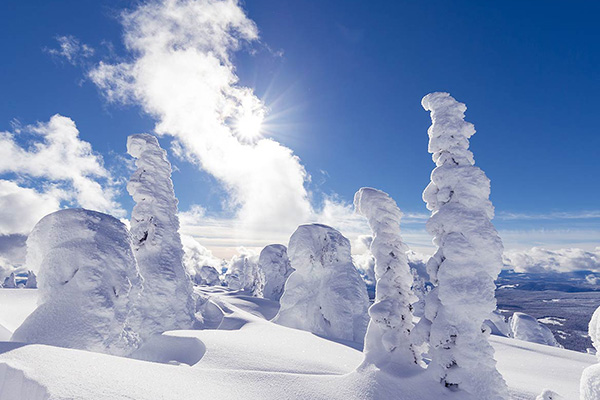 Staying Safe & Clean:
Limit your touch points at the resort with automatic sliding doors installed at the Central Mountain Check In, Happy Valley Day Lodge, Black Forest Day Lodge, Ridge Day Lodge, Gem Lake Warming Hut, Dizzy's and Ski School. We've also added 45 new touchless faucets in washrooms throughout the resort, including at the Village Centre Mall, Gem Lake, Black Forest Day Lodge, Happy Valley Day Lodge and The Ridge Day Lodge. All of these washroom facilities will have handicap stalls with foot pulls in addition to the existing handles. You'll find 60 different hand sanitization stations indoors and outdoors using local distillery
Forbidden Spirits' Serpent Sanitizer
.
Learn more about all implemented COVID-19 protocols & updates >>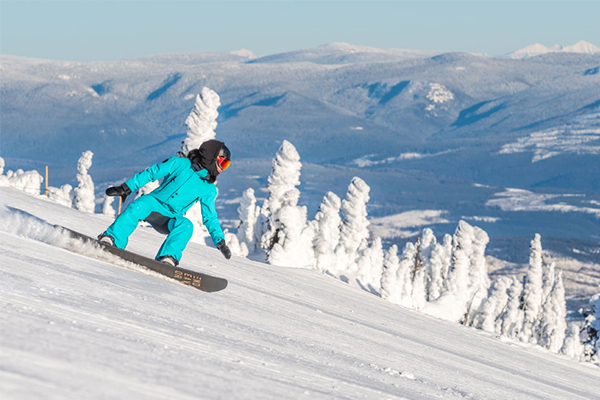 25% Off Day Tickets - ONLINE ONLY:
Save all season long with our NEW Big White Day Ticket. Simply purchase your day ticket online in advance of your trip, head to one of the TOUCHLESS Big White Ticket Pick-Up boxes, scan the barcode you received upon purchase, and go directly to the lift. There will be pick-up boxes at the resort, locations
here
. Due to possible limited capacity, there may be limited number of tickets available every day so we recommend that you purchase well in advance to avoid disappointment. Tickets MUST be purchased online as ticket windows will not be open.
New Outdoor Washrooms: With limited capacities available in all of our day lodges, we encourage guests to use our new, outdoor washroom facilities and get back out on the slopes in a hurry! Eight single-stalled outdoor washrooms will be located at Happy Valley and at Gem Lake, and a Mens/Womens outdoor facility will be located in the Village Centre.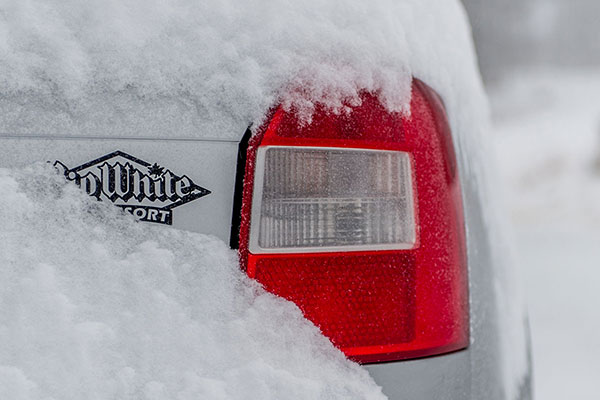 New Parking Locations: While it's been a difficult, but necessary, decision for us to close our Skating Rink this year, we're happy to announce a new temporary Parking Lot in Happy Valley for our Club 65 members and those Travelling with Tots! The parking lot will fit approximately 40-50 cars, possibly more, with the entrance and exit close to the Happy Valley Day Lodge. On weekends and during peak season, we will have a staff member in the parking lot directing drivers. This lot is specifically parking for seniors and those with small children.
We're also excited to offer a limited number of GUARANTEED parking stalls at the Ridge Parking Lot exclusive to Season passholders . Parking stalls will be day parking only, and cost $500/per vehicle. Big White Ski Resort Ltd. has leased this property from a private developer, and will plow the property as required, offering guaranteed parking to Season passholders that wish to purchase a parking spot. Stalls must be purchased through our Tickets Office (tickets@bigwhite.com or 250-491-6262.)

Squawk Box:
Just got off the slopes from a day of shreddin' and no one wants to cook? No problem, we've got your back. Introducing the Squawk Box – our newest, online food delivery service. At Squawk Box, chicken is the main event – our delicious wings, tenders, and full dinners of BBQ'd, Roasted, and of course Fried chicken. Friendly to all diners, we do offer up vegetarian and vegan options along with something for all Li'l Cluckers out there. It's as easy as click 'n cluck... simply order through the online platform, specify your preferred delivery time, sit back and let us bring your delicious dinner to you. We've designed this experience so you can feed the clan quickly and easily.
More info >>
Take Out or Dine In: Order and pay easily and from anywhere on the mountain. Starting to get hungry on the lift? Put your order in for a hot and delicious meal that is getting prepared fresh for you while you enjoy the Okanagan Champagne Powder on your way down! We have increased the locations of outdoor picnic tables for you and your bubble to enjoy a meal at and soak in the epic mountain views.
Looking to dine in? Head to Happy Valley, Black Forest, Moonlight Bistro or The Woods Patio, get seated at a freshly cleaned table from one of our staff. Pre-order some delicious food and drinks. Then, sit back and enjoy! Reservations must be made in advance to dine inside at The Woods. Please be aware that we are implementing a tracing protocol for those dining in our restaurants – one member from your group will be required to leave a name and phone number in the event of a COVID-19 case.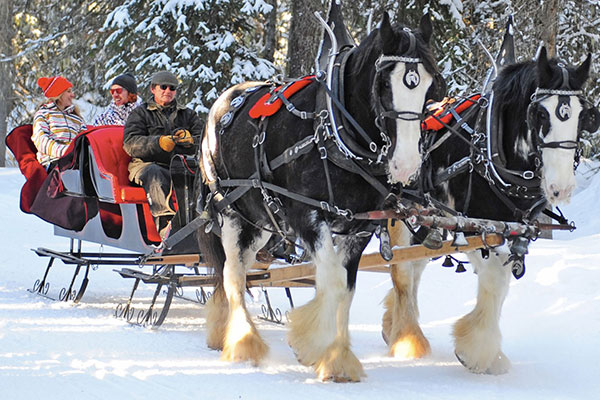 Online Booking System for Adventure Activities: Booking your Big White adventure just became a whole lot easier! Enjoy your favourite activities – from dog sledding, to horse-drawn sleigh rides and snowmobiling – with the click of a button. Book your activities in advance to avoid disappointment. And, if you have questions or concerns, our Concierge Desk is on hand to help.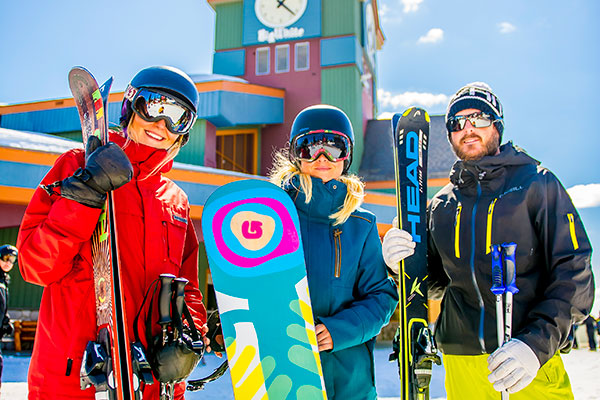 Upgraded Rental Shop with Laser Foot Scanners: Enjoy a whole new rental experience this season! Our Rental Shop has been completely renovated to help promote social distancing, and the way we book our rentals is getting an upgrade too. Guests MUST have a valid ticket (day ticket or Season Pass) before they will be able to collect their rentals. We've also installed new laser feet scanners to ensure you get the best, most suitable boot for your time on the snow. This new system will limit staff touch points and speed up your rental process.
New Products in Retail:
The Big White toque that everyone knows and loves is back this season with new colours – including limited runs of your favourite national sports teams! We'll also have Thermic heated jackets and vests for those colder days and new lines from Mountain Hardwear apparel, Ray Ban sunglasses and Canadian made artisan fashion brand Tonia DeBellis.
Dizzy's is taking online bookings
for all your ski and bootfitting needs. Make sure you stay tuned for our online shopping announcement!
2019/2020 Resort Developments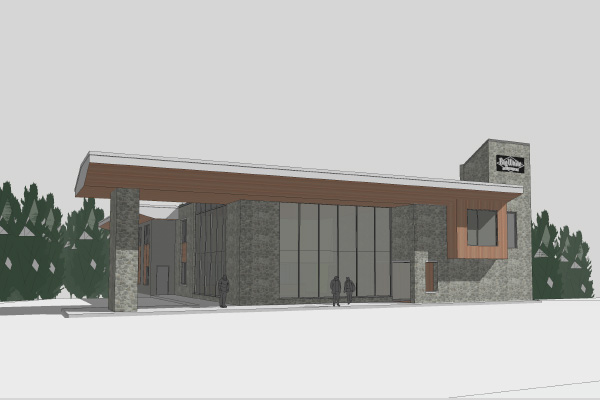 Stage 1 of new Central Reservations building complete:
This $5.5 million project will feature plenty of guest parking for easy check-in and check-out, a large lobby, an open front desk, high ceilings, and the addition of a Guest Lounge with showers and bathrooms for those wanting to ski on the day of their check-out. The new building will also house a larger reservation office and owner relations office, a board room, a meeting space, and a maintenance shop.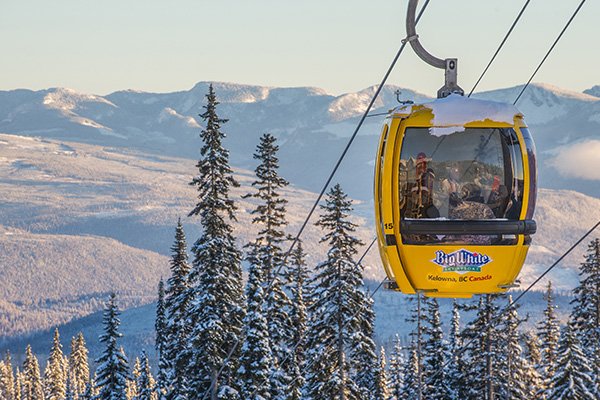 New Gondola cabins: The addition of eight new gondola cabins to Lara's Gondola will increase capacity by 50% making the connection between Happy Valley and the main Village quick and easy. This $600,000 upgrade will be ready for the 2019/20 season. These cabins will be able to easily transport mountain bikes during the summer season.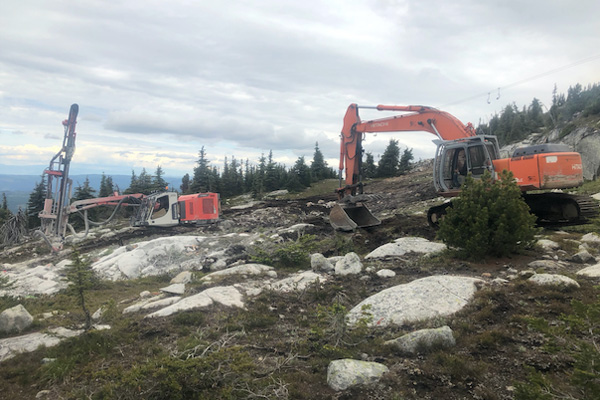 Get to Gem Lake, sooner:
As of this year, you'll be able to get there earlier on in the season thanks to a $500,000 investment! Big White has had crews working on a new return trail that will allow skiers and snowboarders to hit Westridge with 30-40 centimetres less snow base. Normally, Big White gets the Gem Lake chair spinning near Christmas time, but with the new Village Way return, it'll be weeks earlier!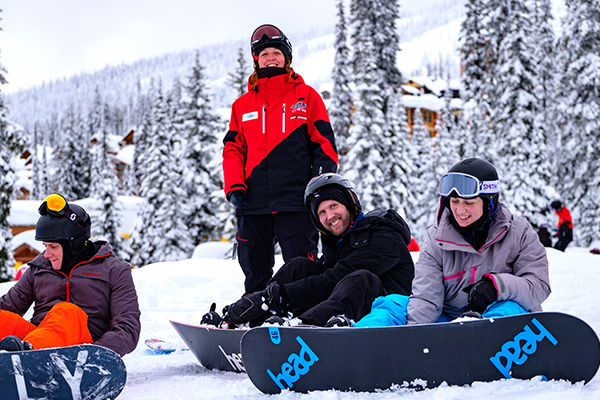 New Magic Carpet: More space for beginners. The resort has invested $235,000 in installing a brand new magic carpet – meaning Big White will be able to give more people the chance to fall in love with skiing and snowboarding.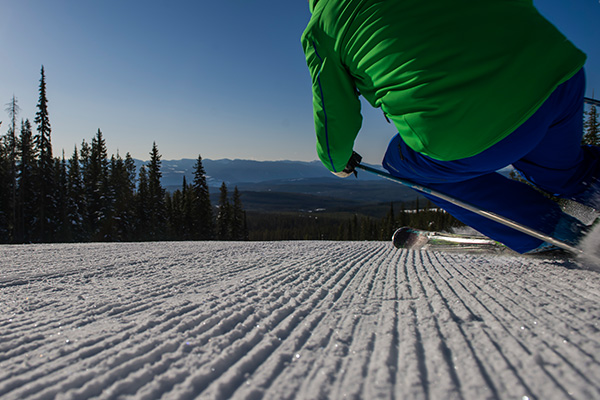 New Groomer:
Corduroy lovers – this one's for you! Big White is adding another $500,000 groomer to its fleet, ensuring your favourite run is always in tip-top shape, pow day or no!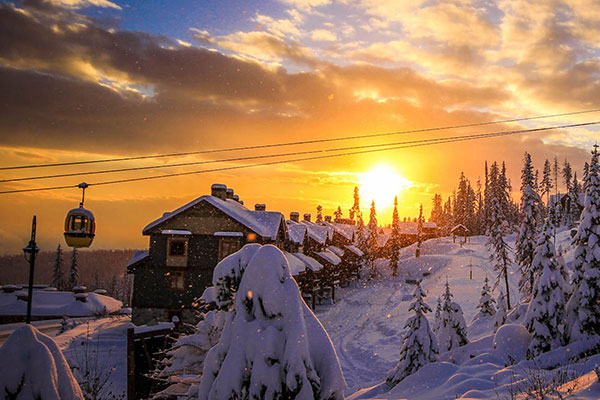 Sewer upgrade: An $800k sewer upgrade investment is currently in progress for the mountain.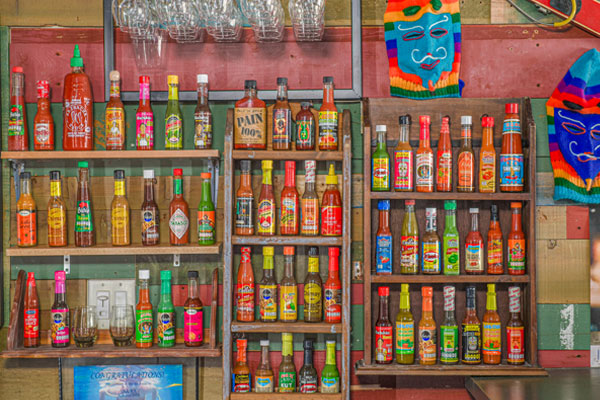 Hot Sauce Wall:
Warm up after shredding the slopes with Underground Pizza's massive new hot sauce collection! The popular restaurant, located in Trapper's Crossing, now boasts a collection of 60 different varieties of hot sauce for guests to spice up their pizzas and donairs with – or drink straight, if they dare!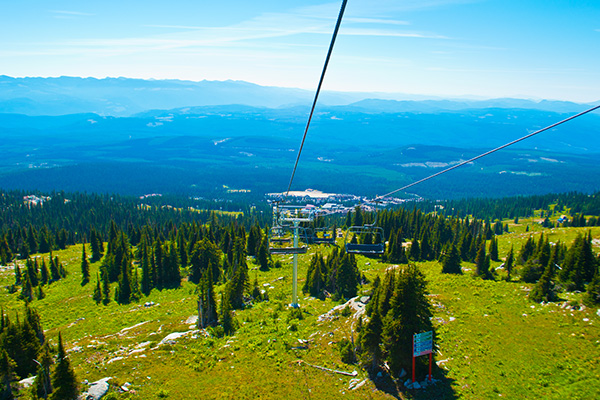 Summer Grooming: Ongoing improvements to existing terrain that will add to skiing and riding enjoyment!
2018/2019 Resort Developments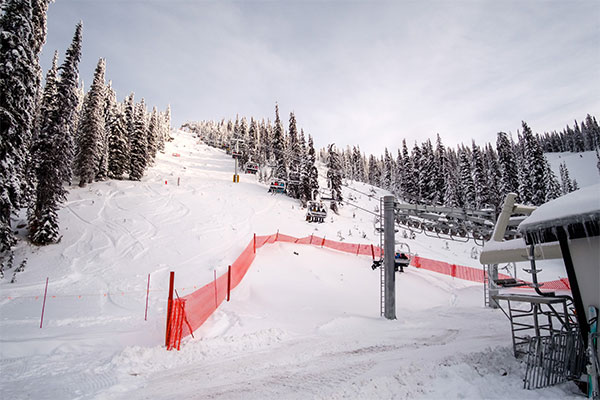 New Run – The General:
At the time the old Powder Chair was installed, the lift line had the best fall line – meaning the path a beach ball would take if you let it go at the top of the run – of all the runs off that lift. With the new alignment, and now a name, the lift line is officially a run. A black diamond, The General is not a groomer. It's steep. It's narrow. It has beautiful glades on either side and it's a lot of fun.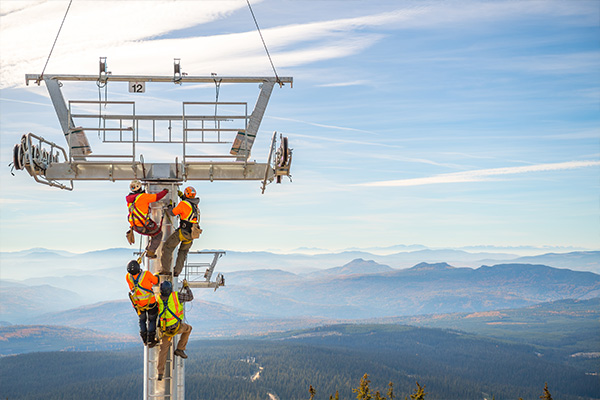 NEW Powder Chair: A four-passenger fixed grip Leitner Poma lift has replaced Canada's oldest and most popular triple chair. Following an investment of $3.9 million, the new lift has increased upload capacity to 2,400 passengers per hour, allowing more skiers and snowboarders to enjoy the amazing terrain on the Powder Chair. The chair had its grand opening on 14 December and is now up and running for the 2018/19 season!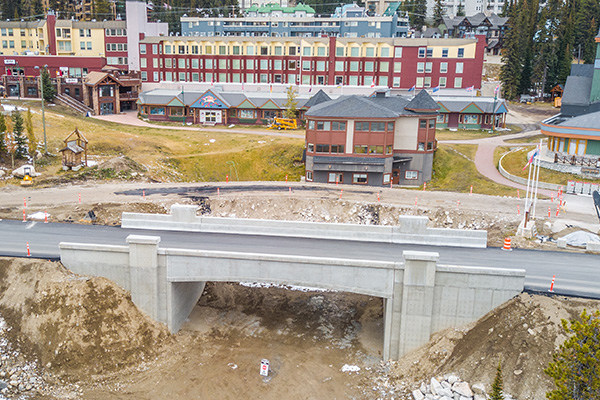 NEW Skier Tunnel:
Big White has invested $1.5million to expand the skier tunnel on the Hummingbird run from its current width of 25 feet to 60 feet, accommodating increased skier and foot passenger traffic.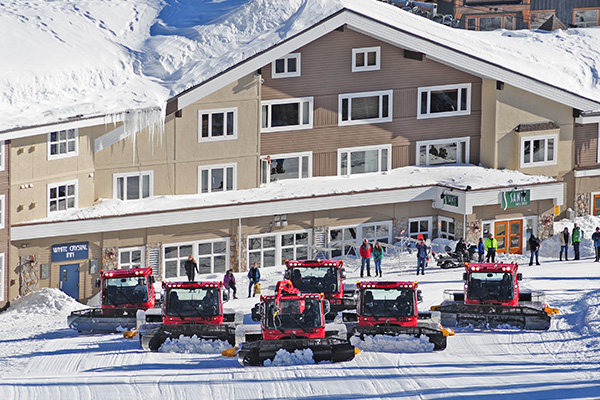 NEW Pistenbully groomer: A new $450,000 groomer has been purchased for winter grooming during the 18/19 season. The new groomer, offers the most modern alpine technology for precise grooming work and will be a helpful addition to Big White's extensive current fleet of groomers.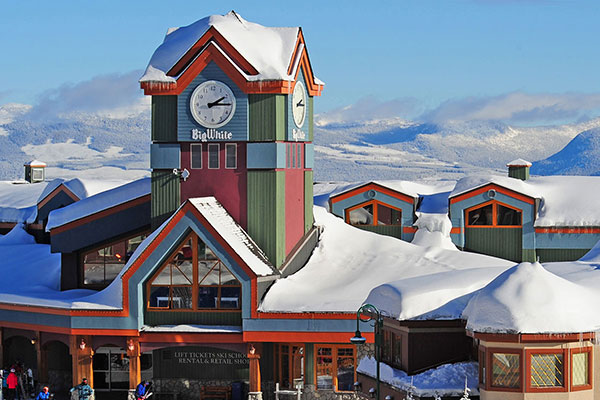 NEW investments across the mountain:
Including $1.1 million in annual lift and machinery maintenance, $500,000 in building maintenance, $750,000 in water and sewer upgrades and $150,000 for a new on mountain shuttle bus.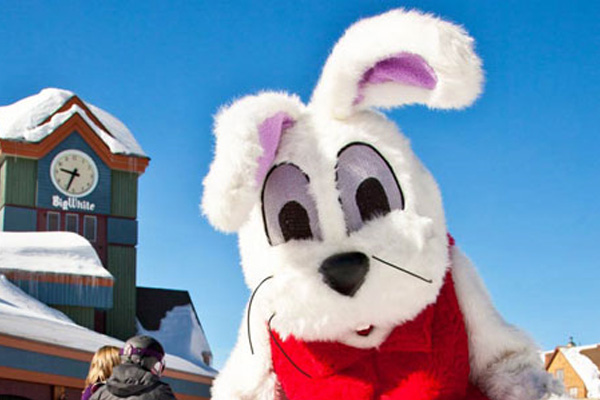 New Extended Season - Now open until April 22 for Easter The 2018/19 season is off to a great start. Thanks to the hard work put in by the Big White Team in the lead up to Opening Day, guests are now enjoying our new Powder Chair and new skier tunnel from the village. The Team has also been working closely with the Easter Bunny and we are delighted to announce that we will be extending our winter season to now include Easter!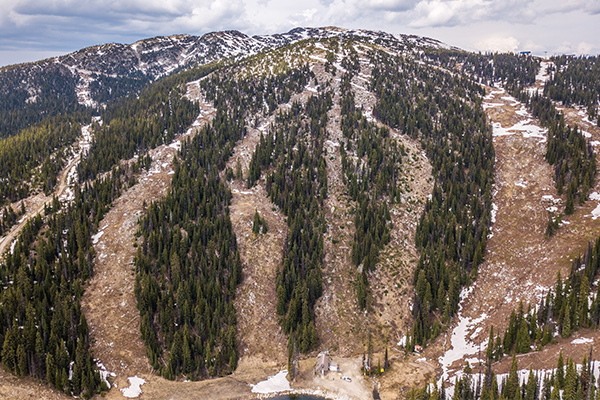 NEW summer grooming and glading:
Crews spent the summer performing $70,000 worth of summer grooming and glading on the existing ski runs, creating more of the wonderful terrain that makes Big White such a great place to ski and snowboard. This included the area around the new Powder Chair, bottom of the Ridge and the runs associated and over in the Black Forest.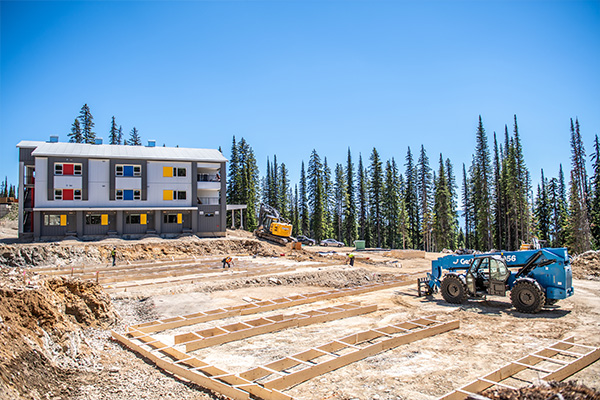 NEW Staff Housing: Seasonal staff have moved in to our brand-new staff housing for the 2018/19 winter season. This is the first of four buildings on the present site around Gondola Way, and represents the start of a subdivision in the Black Forest area. Staff living in the building have excellent access to the Black Forest Express Quad, Lara's Gondola and the Happy Valley Day Lodge.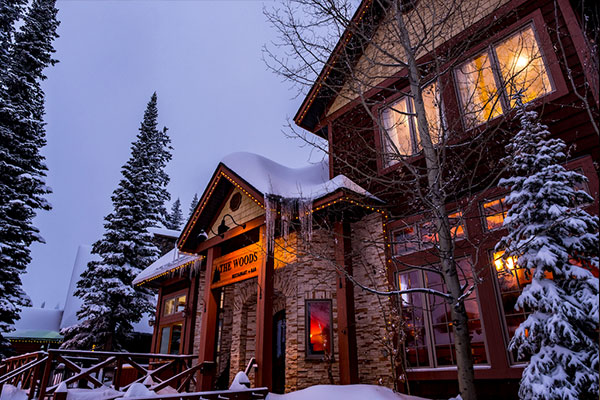 New menu items at The Woods
The Woods is back for another year with delicious menu items to tempt you after a big day on the slopes. Enjoy the brand new 14oz Pork Tomahawk, flame-grilled, Applewood-spice rubbed and served on the bone with smoked paprika butter and parsley shallot chimichurri; or the Moroccan chickpea and pumpkin stew with harissa charred grilled chicken breast. The much-loved fondue for two is also back for another year, featuring a three-cheese blend with orchard fruits, nugget potato and baguette.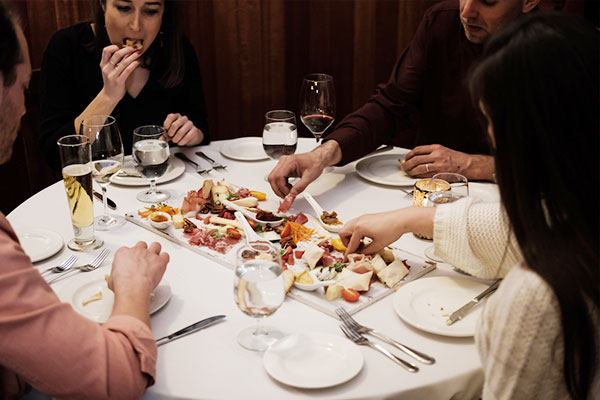 New menu items at Happy Valley, Clocktower Coffee Co. & Gem Lake When you're feeling the cold outside, come in to sample one of the beautifully warm meals newly available at the above Big White food & beverage outlets – including tasty new Pho to Go at Clocktower Coffee Co., mini donuts with cinnamon sugar at Sk8ers, Popkum BC-farmed prosciutto-crusted rabbit with an apple-stuffed loin at Kettle Valley Steakhouse, five-spiced chicken lettuce wraps at Moose Lounge. Plus enjoy a variety of new vegetarian options across all locations, including vegan tuna at The Woods!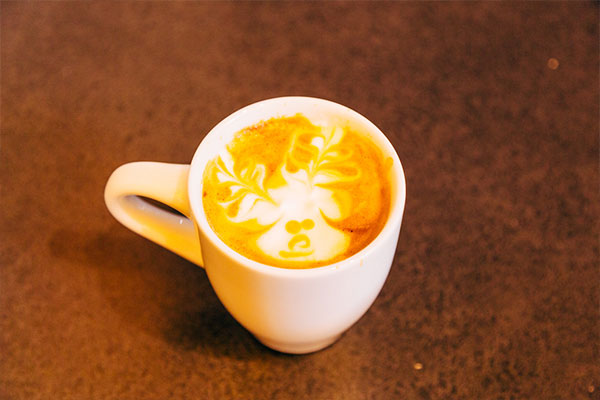 New coffee program at Big White
Big White is proud to introduce our collaboration with Tug 6 Craft Coffee Roasters out of Kelowna, British Columbia. Their specially created 'Yard Sale' blend is a medium roast that is Okanagan-made; it will be featured across Big White food & beverage establishments, including Gem Lake, Happy Valley Day Lodge, Black Forest Day Lodge and The Woods.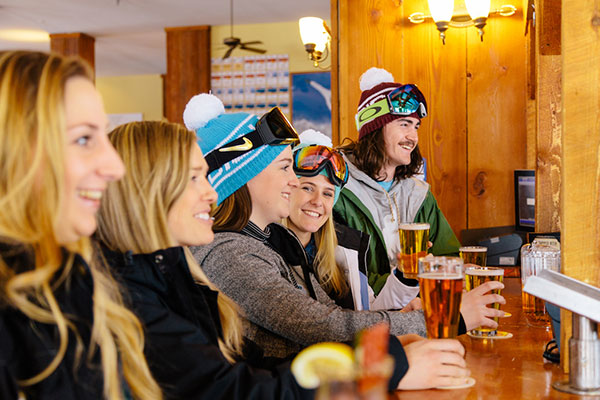 New waste management program at Happy Valley Day Lodge In an effort to be more environmentally conscious and engage in socially responsible waste management procedures, Big White is introducing a new program at Happy Valley Day Lodge to streamline all waste production. Big White will also be limiting use of plastic straws, with straws only available upon request. Keep an eye out for new systems coming into place this upcoming winter season!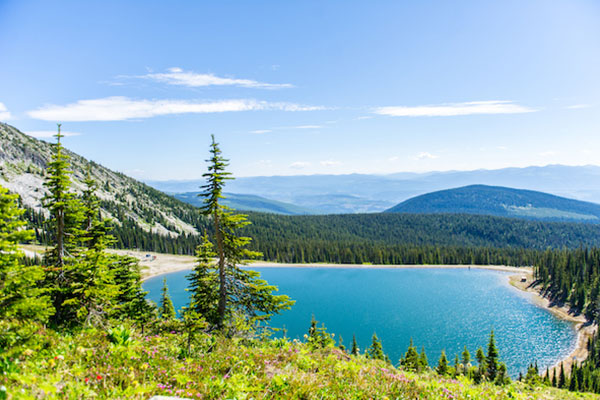 New water bottle filling stations around Big White
Big White is introducing three new bottle-filling stations around the resort in an effort to reduce use of single-use plastic water bottles. These stations will be located in the Village Centre Mall, Happy Valley Day Lodge and Black Forest Day Lodge and will offer Big White's famously fresh and clean water, straight to your reusable water bottle!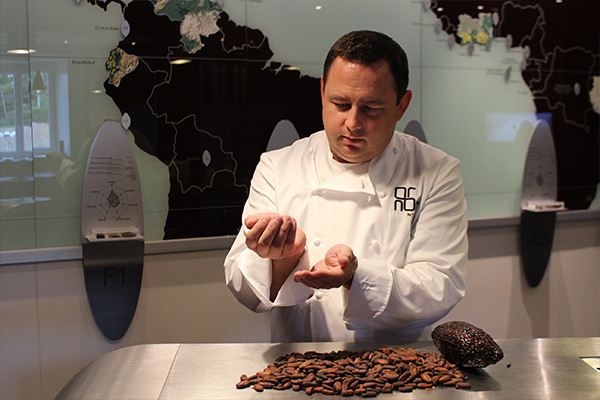 New dessert program at Big White
Award-wining pastry chef Leigh Holuboff has created a range of new desserts for the Big White food & beverage portfolio, using the finest local and imported ingredients while incorporating modern and traditional techniques. Desserts only use Big White's very own signature recipe chocolates, the 68.4% "Alpine Noir" and the 43.2% "Monashee milk", both having been designed in Meulan, France at the Cacao Barry O'R Noir laboratory by Chef Rob Walker. Desserts include the Alpine Noir cream puff, the lemon raspberry tart and the tiramisu cheesecake bar.