The ultimate learning experience and the best way to explore the mountain. Go one-on-one or make a group with up to five family or friends of similar ability.
SEASON PASSHOLDERS SAVE 15% OFF ALL LESSONS
exclusive lesson with a snow pro and lift line priority - starting from only $66 per person
(ex. 2hr weekday lesson pricing includes 3 people in group)
excludes Mom/Dad & Me Are Skiing program
BEGINNERS GET 25% OFF LESSONS, LIFT TICKETS & RENTALS
Learn to ski or snowboard for the first time with our beginner lessons package. Specifically designed to give first timers a fun, safe, and encouraging experience with our pros.
Discount package applies to first timers new to the sport.
Includes:
- a 2 hour lesson
- Rental equipment for the day
- Lift line priority
- Beginner day lift ticket (Magic carpet & Plaza chair only)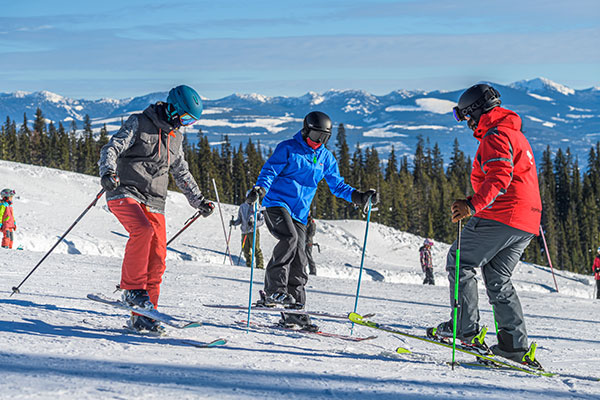 Call or email Ski & Board School for more information 250.491.6101 | skischool@bigwhite.com
2020-21 Lessons Times & Cost
Adult & Teen (13+) Lessons

One of our professionally certified Snow pros will guide you around the mountain at your own pace, on the runs that you want to ski/ride and they will help you reach your individual goals.

Full & half days
Access to your favourite certified pros
Our pros know where to find the best runs and best snow on the mountain
Priority access to lifts during the lesson


Adult & Teen (13+) Lesson Times & Cost

---

HALF DAY/FULL DAY

Duration
Cost
# of participants
3 hr - AM
9:00am - 12:00pm
$400
Includes up to 3*
3 hr - PM
12:30pm - 3:30pm
$335
Includes up to 3*
6 hr - FULL DAY
9:00am start
$675
Includes up to 3*
Additional participants in any private lesson $69 per person

Prices do not include tax and are subject to change without notice. Lift ticket not included see Tickets for lift ticket rates.
*Maximum of 5 guests per group

1 HOUR/2 HOUR

Duration
Cost
# of participants
1 hr - AM/PM
8:30am - 9:30am |
12:00pm - 1:00pm
$135
1 person private
2 hr - WEEKEND AM
10:00am - 12:00pm
$300
Includes up to 3*
2 hr - WEEKEND PM
1:00pm - 3:00pm
$230
Includes up to 3*
2 hr - WEEKDAY AM/PM
10:00am - 12:00pm |
1:00pm - 3:00pm
$230
Includes up to 3*
Additional participants in any lesson $69 per person, excluding 1-hour lessons.

Prices do not include tax and are subject to change without notice. Lift ticket not included see Tickets for lift ticket rates.
*Maximum of 5 guests per group

Cancellation Policy

No refunds due to weather conditions.
Cancellations or rescheduling with more than 24-hour notice will be subject to a $20.00 administrative fee unless due to a medical issue, in which case we will require proof of medical note.
Cancellations or rescheduling within 24-hour notice will be subject to a $40.00 administrative fee unless due to a medical issue, in which case we will require proof of medical note.
Cancellations and rescheduling up to 15 minutes before the lesson start time will be subject to a $100.00 administrative fee
*Please note fees are not including tax, and tax will be added upon payment of fees

Contact Us

Direct: 250-491-6101

Toll Free: 1-866-491-9040