! Product or service is currently under review
New to the Sport?

We understand that snow sports can be intimidating for first-timers or those who are re-entering the sport after a long absence. The Big White Ski and Board School Team is super excited to introduce/reintroduce you to this lifetime Winter Sport! Learning from our top quality Pros on one of the best learning areas in the world, will help enhance your Ski or Snowboard Experience from Day one.
We love snow sports and are passionate about making your first experience on snow amazing! For only $30.00 extra why not upgrade from Discover Half Day to Discover Full Day; you'll get an extra 2-hour lesson.
Please Note: You can only participate in these programs once.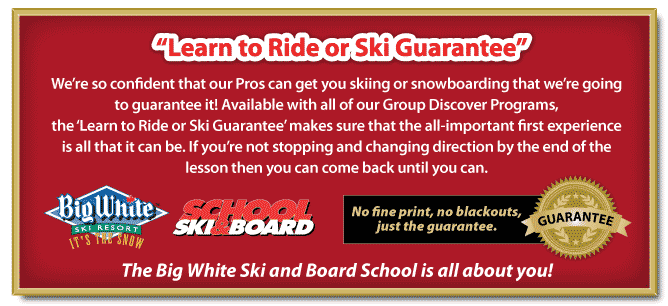 Please contact Ski School to register.
Direct: 250-491-6101
Toll Free: 1-866-491-9040
2019-2020 Program Rates