​
Purchase your Early Bird pass before August 13
You'll automatically be entered into our draw to win 2 Paddleboards courtesy of Okanagan Spring. 10 ft inflatable 2 layer paddle board, 6" thick - weight capacity (285 lbs). Each board includes an aluminum paddle, 3 fins, hand pump, velcro ankle strap and backpack bag. All 2020/21 season passes purchased to date will automatically be entered in the draw.
Buy your pass with confidence, knowing you can receive a total refund by returning your pass before opening day.
A message from Peter Plimmer, President & CEO Big White Ski Resort Ltd.,
On March 16, 2020, myself and my team of executives made the hardest decision of our careers, to close the active winter operations at Big White Ski Resort during the early stages of what has become a worldwide pandemic. We are, as always, thankful to our loyal season pass holders for their understanding and cooperation during the early closing of the resort.

Recently we introduced an offer that we believe to be industry leading and that takes into consideration the early closure of the resort due to the COVID-19 virus: This year's season pass will include an instant 20% rebate for the unprecedented closure to all renewing passholders that had a 2019-20 seasons pass. This 20% rebate will be applied automatically during the online reload process.

We are proudly owned and operated by a Canadian family that lives and enjoys life in the Okanagan and we are aware of the impact that this pandemic has had on our passholders. We have been working tirelessly to ensure that our company is in position to again offer the best winter recreation product available while managing the impact of COVID-19 for all those that wish to join us at the resort this coming winter.

Big White Ski Resort Ltd will continue to follow the guidelines of our Federal and Provincial Health Authorities, and will continue to do everything we can to ensure you, your family, and friends will have a safe, outstanding and memorable experience the next time you arrive at Big White Ski Resort.

We all look forward to welcoming you back to Big White!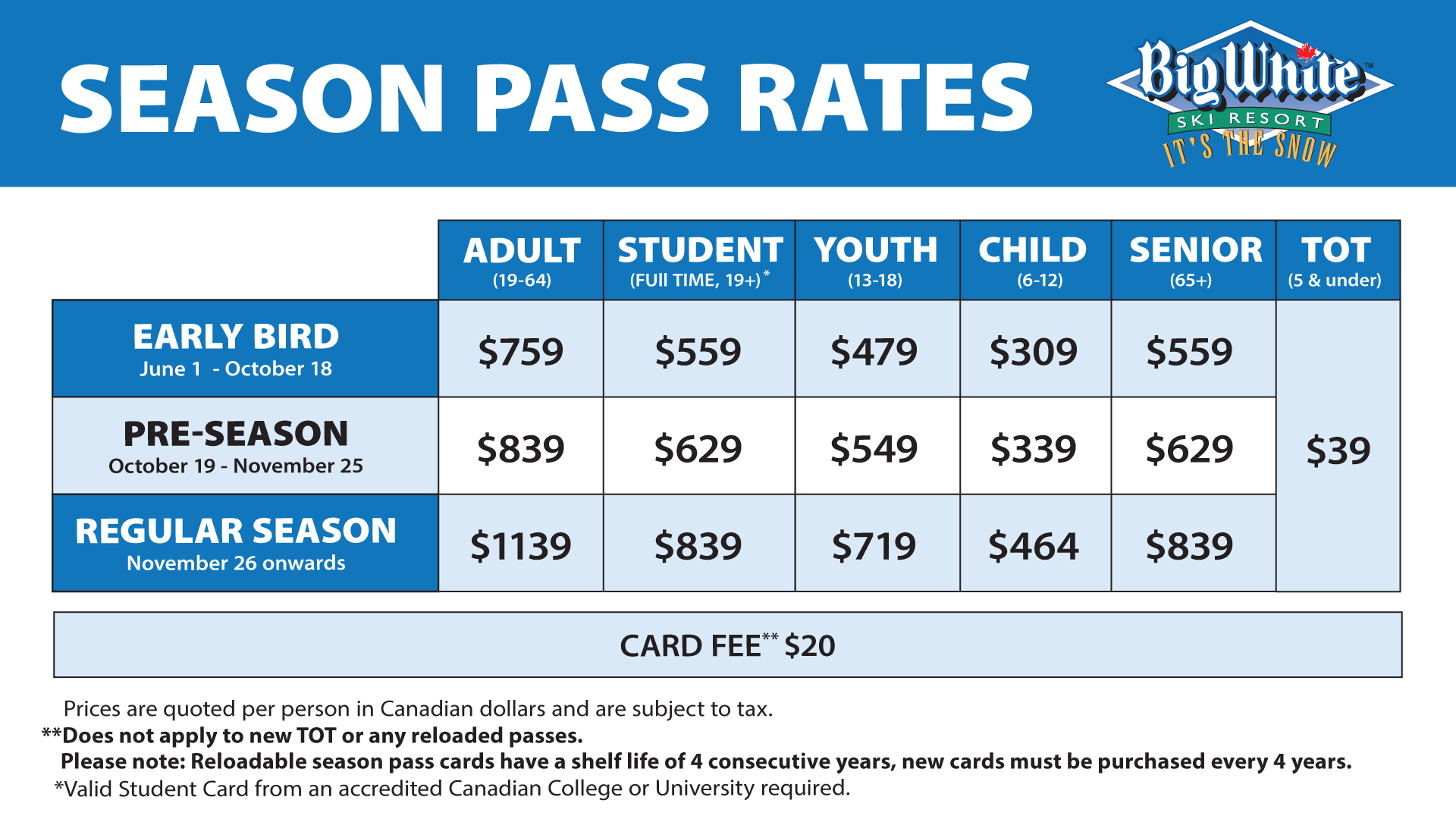 2020/2021 Single Adult Season Price Comparison
Big White Ski Resort, Kelowna BC
$759
SilverStar Mountain Resort, Vernon BC
$899
Revelstoke Mountain Resort, Revelstoke BC
$1,029
Sun Peaks Resort, Sun Peaks BC
$979
Prices listed according to resort websites as of July 6, 2020.
All last year's season pass holders will receive a 20% instant rebate when you reload your pass online before October 18, 2020.
New this year we are providing a 100 day access guarantee! If we are unable to provide lift access to our season pass holders for 100 days during the 2020/2021 season, we will offer you a rebate for the number of days remaining on your pass following the formula of the refundable pass option table presented HERE. We want you to buy your pass with peace of mind, so we are offering you a full refund if you choose to return your pass before opening day 2020. Upon purchase of your 2020/2021 season pass, we are offering a free payment plan when you purchase your pass before October 13, 2020.
Due to our COVID19 protocols we will not be accepting cash at the Ambrosi ticket office for hiking or biking tickets and season passes. We appreciate that this makes it harder for some people but our priority has to be the health and safety of our staff and other customers. Thanks for your cooperation and understanding.
For more details, please see our payment plan tab below.