Supporting Local With Every Drop – Serpent Sanitizer at Big White
Posted On: October 06, 2020 |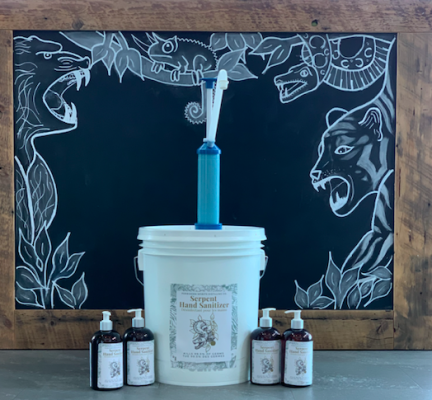 By now you know the drill. You enter a building, squirt a couple of drops of sanitizer onto your palms, rub it in well, and go about with your task. COVID-19 has had a large impact on public spaces, and Big White Ski Resort is no exception – so, this winter, we're teaming up with a local Kelowna business to ensure your hands are clean, safe and comfortable all season long.
Forbidden Spirits Distilling Co. is a family-owned craft distillery in the Okanagan, known for making ultra-premium spirits including Vodka, Gin and Brandy from local BC apples. When COVID-19 hit, the distillery saw the need for using its equipment to make sanitizer – Serpent Sanitizer.
This is the sanitizer you'll find at the entrances of our public spaces and throughout the resort at our sanitization stations.
"This is a great story of local Okanagan businesses helping each other out during this time," says Trevor Hanna, VP of Hospitality at Big White Ski Resort. "Forbidden Spirits came through for us when all other supply chains had collapsed and they are committed to ensuring there is plenty of their product available for those who need it. We could not have asked for a better partner when thinking about keeping our winter visitors safe."
Serpent Sanitizer is made up with 75% Ethyl Alcohol and filtered water, and has been denatured to prevent accidental ingestion. It also won't freeze up here at Big White – where our daytime averages during the winter are around -5 degrees Celsius. Plus, it's distilled using BC-sourced ingredients, and is made by local residents – meaning you're supporting local through and through every time you use it!
But, the best part about Serpent Sanitizer is how it's been used to give back and support the community. In recent months, Forbidden Spirits has donated thousands of litres of it, as well as thousands of dollars, to those in need during this crisis. Since the pandemic began, the distillery has donated over 11,000 litres of sanitizer to first responders, essential workers, local citizens and businesses throughout the Okanagan and beyond.
Forbidden Spirits also helped raise over $40,000 in much needed donations for local charities including Habitat for Humanity, Central Okanagan Food Bank, Mama's for Mama and countless others. And, for every bottle of 325ml sanitizer sold, the company donates $1.00 to charity. It's also providing teachers, educational support workers and other essential workers with free 325ml bottles of sanitizer.
Learn more about Serpent Sanitizer and Forbidden Spirits, here.