Meet Chef Boddie – Big White's New Executive Chef
Posted On: January 08, 2021 |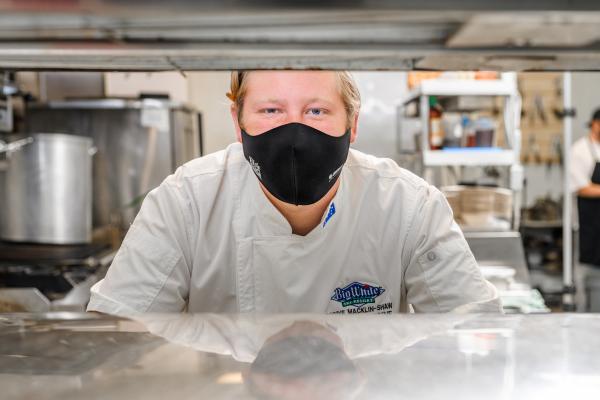 Big White Ski Resort is pleased to introduce you to our new Executive Chef: Boddie Macklin-Shaw! Boddie has been cooking in all of our kitchens for the past six seasons, starting as a line cook in the Kettle Valley Steakhouse in 2014 and working up to his current role as Chef de Cuisine.
"During his time at Big White, Boddie has shown an extraordinary talent for going above and beyond to produce exceptional menus," says Trevor Hanna, Vice President of Hospitality at Big White Ski Resort. "He is also equally adept at managing the day-to-day intricacies of a large culinary department.  No doubt, he will bring a huge heart and unwavering dedication to his expanded responsibilities."
So, we know Chef Boddie is an exception chef... but what else do we know about him? 
Q: What is your favourite part about working for Big White Ski Resort?
A: It would have to be the people, the staff, the guests and the community. We live in one of the best places in the world and the fact that I call this my home the best thing about working here. Sometimes it doesn't feel like work when everyone is here to have the best time of their life.
Q: Do you ski or snowboard? Any other on-mountain activities that you enjoy?
A: I am a skier and I also love to jump on a snowmobile whenever I can.
Q: What inspired your love for cooking and for food?
A: When I was younger my mother managed a butcher shop for many years. In all my spare time I would learn how to break down whole sides of beef, lamb and chicken. Every night my mother would cook different cuts of meat and I was always curious to how I could do it different. Cooking brings people together and I love making people happy through food.
Q: Do you have a favourite meal?
A: Truffle roasted chicken / pomme puree / Honey glazed carrots  
Q: What's your go-to meal when you're cooking for yourself, and not others?
A: A simple eggs benedict. I can eat it breakfast, lunch and dinner.
Q: Coming from Australia, there are a *few *differences in living on a snowy, Canadian mountain. What is your favourite part? And what do you miss most?
A: The best part about living on a mountain is that I can wake up, strap my boots on and ski to work. The thing I miss the most from Australia is the beautiful beaches and all my family.
Q: What kind of future do you see for the dining scene at Big White?
A: I see a bright future for the culinary offerings, there is a few concepts that are in the works but I can't give away too many secrets. Big White is a word class ski resort known for its Okanagan Champagne Powder and diverse terrain but I also want guests to travel here for the world class food that we provide.
Q: Where did you learn to cook?
A: I started my apprenticeship at a young age and worked in many restaurants from large-style catering, steak and seafood and fine dining. But before I entered the culinary world, I owe everything to my mother. She taught how to please people through food.
Q: What's your favourite meal of the day: breakfast, lunch, supper or dessert?
Supper is the winner for me, it is the only acceptable time to enjoy a glass of wine with food.